Tubing Wrench with Flexible Head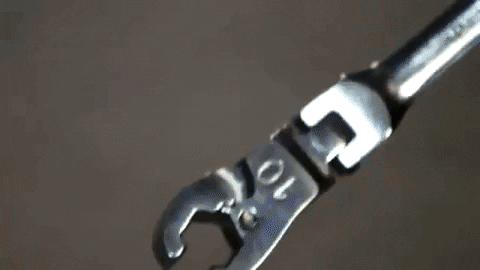 🔧

WRENCH ANGLE ADJUSTABLE
🔧
Add it to your toolbox and get the STRENGTH that gets the job done.
Effectively LOOSEN or TIGHTEN screws and does not rust easily!
The angle of the head can be ADJUSTED up to 180° & made of selected chrome vanadium steel, high hardness,
HIGH TORQUE, good TOUGHNESS, and LONG SERVICE LIFE.
Features:
Moving Head Ratchet Wrench is convenient & labor-saving.
Professionally heat-treated for strength and durability.
Chromes vanadium steel forging, gears, and jaw hardening heat treatment, hard wear-resistant.
572 tooth drive technology, rotating 5 degrees can drive, facilitates to use in small space.
Polished finish for easy cleaning. 

Use when removing or replacing nuts on fuel or brake lines.
Designed to prevent rounding out edges over time, One-piece steel alloy construction for rugged performance.
Specifications:
Type: Tubing Ratchet Wrench
Material: chromes vanadium steel
Size: 8mm/9mm/10mm/11mm/12mm/13mm/14mm/15mm/16mm/17mm/18mm/19mm
Function:
You can apply force in both clockwise and counterclockwise directions, allowing you to use it more freely.

The ratchet can be used repeatedly and is more convenient to use in a narrow environment.
Package Included:
1 pc x  RatchetFix™ Tubing Wrench with Flexible Head